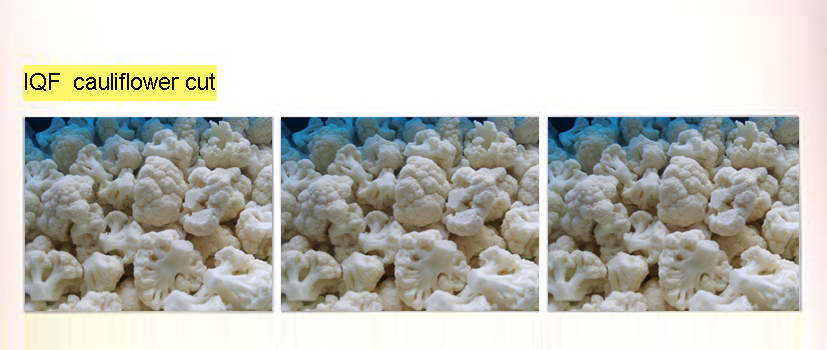 Specifications for IQF cauliflower florets
Definition of product :
Produced from fresh cauliflower which have been trimmed, washed, blanched, cooled and individually quick frozen. This is an all natural product, containing no additives or preservatives. Origin of China.
Packaging:



By waterproof cardboard carton with polyethylene liner.
Pack type: 10kg bulk or retail package.
Storage condition: deep frozen, store at less than –18 C
Shelf life: 24 months from date of manufacture/packing.
Physical Description:
Flavour: typical of cauliflower, free from off or objectionable flavour.
Appearance: free flowing-pieces
Odour: typical of cauliflower, free from off or objectionable odours
Size/count: 20-40mm, 30-50mm or as per customer's requirement.
Colour: fine regular white color.
Taste: typical of the cauliflower, without any off-taste.
Foreign substance: non existence
Broken pieces: non existence
Metal/glass/plastic/stone/wood/sand/soil or any other FMV/EVM:
Non-existence.
Contamination: pesticides, fungicides, metals, mycotoxines, radioactivity, according to EEC/USFDA regulations and China National Standards.
Microbiological Description:
(1) T.V.C. <10,000/G
(2)Yeast <200CFU/G
(3) Moulds <200CFU/G
(4) Salmonella NIL
(5) Pathogenic bacteria NIL
(6) Coliforms NIL
(7) E.coli NIL
Storage, shelf life and transporting conditions:
Products must be kept at a temperature of minus 18DC or less to maintain it's required condition and attain a shelf life of 24 months in unopened packs. Transported also at or under temperature of minus 18 degrees centigrade (DC).