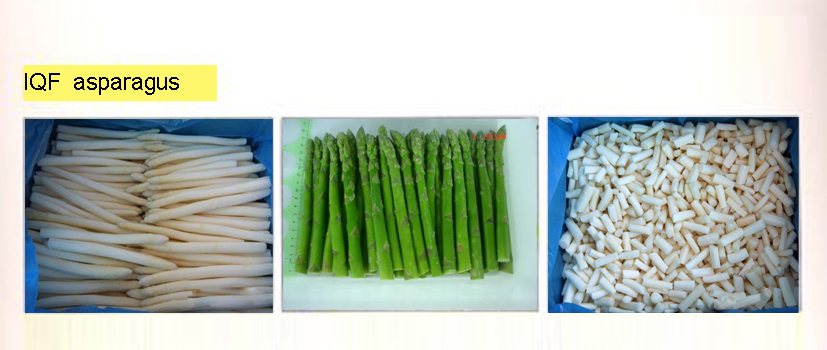 Specifications for IQF green asparagus whole
A. PRODUCT DESCRIPTION:
The product are PRoducED FROM CLEAN, SOUND, SUCCULENT GREEN ASPARAGUS materials after BLANCHING, PROPER DRAINING AND INDIVIDUALLY QUICK FROZEN IN ACCORDANCE WITH GOOD MANUFACTURING PRACTICE. THE PACKAGED PRODUCT, SHOULD BE DELIVERED IN A HARD FROZEN CONDITION AND SHOW NO EVIDENCE OF REFREEZING OR DETERIORATION.
THE MATERIALS SHOULD BE FREE OF ANY NOXIOUS SUBSTANCES, FOREIGN OR EXTRANEOUS MATTER GM STATUS OF MATERIAL.
B. PHYSICAL AND ORGANOLEPTIC CHARACTERISTICS:
APPEARANCE: FREE FROM FOREIGN MATERIALS.
COLOUR: GOOD GREEN COLOUR, FREE FROM DISCOLOURATION.
ODOUR: CHARACTERISTIC, FREE FROM MOULDY OR FOREIGN ODOURS.
FLAVOUR: CHARACTERISTIC, FREE FROM MUSTY OR FOREIGN FLAVOURS.
TEXTURE: (THAWED) CRISP, BUT NOT STRINGY OR MUSHY.
SIZE: LENGTH 11-17CM, DIAMETER 8-10-12-16MM, TOLERANCE LESS THAN 10 MM.
C. CHEMICAL CHARACTERISTICS:
PESTICIDE AND CHEMICAL RESIDUES: NOT TO EXCEED THE LIMITS IN THE EUROPE FOOD STANDARDS CODE.
PEROXIDASE: NEGATIVE
MICROBIOLOGICAL CHARACTERISTICS:
(1) T.V.C. 10000/G
(2) Yeast <500CFU/G
(3) Moulds <500CFU/G
(4) Salmonella NIL
(5) Coliforms NIL
(6) E.coli NIL
D. PACKAGING:
IN POLYLINED CARDBOARD CARTONS. NO METAL TIES OR STAPLES TO BE USED. TO A MAXIMUM WEIGHT OF 10 KG. EACH CONTAINER SHALL BE CLEARLY MARKED WITH THE SUPPLIER'S NAME, NAME OF THE RAW MATERIAL, PACKED ON DATE AND TIME.
E. STORAGE CONDITIONS:
STORE AT -18°C OR BELOW. STORAGE LIFE: 24 MONTHS.